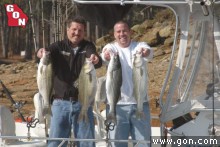 Lineside guide Robert Eidson (left) and Jim Thompson with four Allatoona linesides caught on March 19.

Itís April Madness!
Instead of fishing crowded rivers this month, look for stripers and hybrids to run up creeks off main-lake runs. Allatoona, West Point and Bartletts are great examples.
By Don Baldwin

Originally published in the April 2007 issue of GON

In the world of sports the NCAA basketball tournament dominates the month of March. This tournament, tagged "March Madness" steals virtually all of the sporting news and provides basketball zealots with a great deal to talk about.

Well, that is all behind us for another year, but the month of April is upon us with its own brand of madness for a select group of Georgia anglers. "Linesiders," those hardy individuals who chase the stocked stripers and their cousin hybrids in our local reservoirs, anticipate April with as many high expectations as the basketball world does March. During April, these avid anglers risk hull gouges, broken props and damaged lower units as they push their rigs up the rivers that form the reservoirs, going as far as they can go chasing linesides on their spring spawning run.

As the water temperatures warm, these big fish that have been cruising the deep, open waters of the lake through the winter months head upstream in large numbers, and the concentration of catchable fish that the skinny water creates can produce a field day for the anglers who are able to get upstream and time the trip properly. The problem is that lots of folks know about the run and the shallow narrow rivers can be pretty crowded at times making fishing and navigation difficult.

Robert Eidson of Dallas is about as avid a lineside angler as you will find. He is a full-time guide who spends almost every day on the water, and he's an experienced tournament fisherman as well. Virtually all of his angling energy is spent on linesides.

We had the opportunity to fish with Robert on his home lake, Allatoona, in late March and found that he had a slightly different take on "April Madness."

"Most striper fishermen go up the major river channels during the spring spawning run," says Robert. "I usually stay away from the area because it is just too crowded, and I don't want to risk damaging my boat."

He agrees that there are a lot of fish to be caught up the river, but there are other options on most of our reservoirs that can be just as productive in the spring without all the hassle. He recommends that you try some of the smaller feeder creeks. Robert has found through experience that many linesides will run up the feeder creeks looking for spawning locations instead of going up the river.

"The key is that the creek must provide a constant flow of water," says Robert. "If the current flow out of the creek is constant due to a continuous water supply at the source, the linesides will use that creek much like they do the main river."

While we were a bit early for the spawning run on our trip to Allatoona, we decided to give Robert's theory a try.

I met Robert and his friend Jim Thompson of Powder Springs at the Red Top Mountain Ramp at 7 on a Monday morning. We loaded up our gear and took a short run up Allatoona Creek. Within a mile of the ramp we slowed down and Robert started watching the graph for signs of bait schools and fish arches.

"This area should be good because the creek chokes down to a narrow pass," said Robert. "I know that when fish migrate to the back of the creek they have to go through this narrow area, so it is a great place to look for fish."

Within a couple of minutes we spotted bait as well as large arches on the graph.

"Let's go to work," said Robert.

We shut down the big motor and Robert started putting baits overboard.

"We'll start with flatlines and planer boards until the sun gets up," he said. "The fish should come up to baits early."

Robert baited the rigs with shad or trout 4 to 6 inches long and told Jim and I to let them out about 120 feet behind the boat. The reels, equipped with line counters, made that task easy.

The rig consisted of casting reels spooled with 15-lb. test Berkley Trilene mounted on stout fiberglass rods. The terminal end consisted of a barrel swivel and a 5 to 6 foot florocarbon leader (also 15-lb. test) and a relatively small 1/0 Gamakatsu bait hook.

"I match the hook to the size of the bait," said Robert. "I think most people use hooks that are too large for the bait they are fishing."

Robert says that a large hook can make a bait nose heavy and cause it not to swim naturally, thus limiting strikes.

With the baits set out (two flatlines and two planer boards), we started a slow troll on the electric motor. The graph showed plenty of bait and several large arches indicating big fish. We hadn't gone more that 100 yards when the planer board on Jim's side went sideways and the reel alarm screamed that a fish had taken the bait. Jim set the hook and fought a 6-lb. hybrid back to the boat. Shortly after that fish was landed, one of the flatlines was hit and another hybrid, slightly larger, was hoisted aboard. The action was pretty consistent for the next hour with several 6- to 8-lb. hybrids, a couple of stripers in the 10-lb. class and a couple of 1/2-lb. spotted bass coming aboard.

When the surface action slowed we changed to downlines. These rigs were fished on the same fiberglass rods, but the terminal tackle consisted of an inline sinker (by Lanier guide Jerry Hester) with a swivel imbedded in both ends and the same florocarbon leader and hook combination mentioned earlier. The choice of bait (trout or shad) didn't seem to matter much on either the downlines or surface rigs; both generated about the same number of strikes.

The downlines produced several good fish over the next hour or so, including a striper of about 15 pounds. Then the action slowed down. At about 9:30 we pulled up the live baits and switched to umbrella rigs.

"Now that the sun is up the fish are likely to be deeper and scattered," said Robert. "We can cover more water at the proper depth with the U-rigs (umbrella rigs) and maybe pick up a few more before the morning bite is over."

The U-rig consisted of two crossed metal pieces forming four arms each holding two 3/8-oz. bucktail jigs on short wire leaders and a center jig on a slightly longer wire leader. The jigs were tipped with chartreuse or lime-green rubber trailers, and the rigs were placed over the side while underway on the big outboard. Robert told us to let out about 100 feet of line causing the rig to run between 14 and 16 feet deep at the 3 mph trolling speed. Robert said he will speed up to pull the rigs higher if he sees shallow fish on the graph or put the boat in neutral letting the rigs fall to fish that are marked deeper than the trolling depth. Often the change in the speed of the forward movement will trigger a strike.

We caught several more fish on the U-rigs before calling it a day at 11 a.m. It had been a great four hours of fishing.

While we spent all of our time about mid-way back in Allatoona Creek, Robert recommends that you try Stamp and McKasky creeks on the lower end of the lake and Sweetwater Creek farther up the lake during the month of April to avoid the crowds up the Etowah River.

Robert tells us that there are several Georgia reservoirs where you can reproduce the methods and results that we had on our Allatoona trip.

"Bartletts Ferry is also a great lake with many of the same characteristics as Allatoona," said Robert. "It has a mix of hybrids and stripers, and you can fish the river close to the West Point dam as well as some of the feeder creeks on the lower end to avoid the crowds and shoals."

Halawakee Creek near the Hwy 279 bridge is one of Robert's favorite spring alternatives that is usually very productive.

On West Point, Robert recommends Maple Creek as an alternative to the river near Franklin. Again, he says you will catch just as many linesides as you would up the river while enjoying the space of the main lake without the crowds.

No matter which of these lakes you choose, it is helpful if you can throw a cast net to catch shad for bait. Robert calls Allatoona, Bartletts Ferry and West Point, "working man's lakes" since there is little to no availability of live striper bait on any of them. Catching fresh bait before you fish and keeping them fresh in a good bait tank is a key element to a successful trip. And remember to be flexible in your presentation methods. We caught fish on every method we tried at various times during our trip. If we had stuck with one method our catch rate would have been much lower.

Robert tells us that this secondary creek pattern will work through April and May, so why not schedule a trip with him to learn how and where it is done? He is well set with fishing gear, and his boat is very kid friendly so you can have a great family outing. He guides on Allatoona, Lanier and Carters.

Visit Robert's Website at <www.firstbiteguideservice.com> or call him at (770) 827-6282. He'll be happy to take you out, and let you experience a little "April Madness" of your own.